The Crystal Geyser Roxane water bottling plant has purchased the Cabin Bar Ranch in the Olancha area – a property with considerable water rights.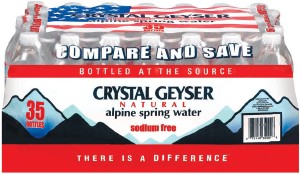 Crystal Geyser, a major employer and taxpayer in Inyo County, appeared before the Inyo Planning Commission last Wednesday to seek approval of a new 55,000 square foot warehouse facility at their Cartago water bottling plant. Commissioners did approve that project.
Later the same day, Planning Director Mike Conklin confirmed that Crystal Geyser Roxane had purchased the Cabin Bar Ranch. Asked if Crystal Geyser plans to pump water from the Cabin Bar, Conklin said he doesn't know what they have in mind. Conklin said it appears they re working on a proposal.
Conklin did add that the Food and Drug Administration would require Crystal Geyser to tie any groundwater pumping to a running spring.
Currently, Crystal Geyser owns and operates water bottling plants in Mt. Shasta, Arkansas, New Hampshire, Tennessee, and South Carolina. Apparently, the company will expand its Olancha plant with the purchase of the Cabin Bar.
Crystal Geyser's website indicates that the company makes it a point to sponsor re-forestation projects of an organization called American Forests. Crystal Geyser plans to have planted 500,000 trees by 2012. There is no indication that the company has plans to plants trees in Inyo County.