Mono County Sheriff's Department press release
On December 17, 2015, as a result of the traditional and social media coverage, a Crowley resident came forward and admitted responsibility for the graffiti.
The depiction was not done recently and was intended an expression of art, not to deface or damage any property. The resident stated this was a teenage indiscretion and in hindsight was a poor decision.
The reported crime of vandalism is out of the statute of limitations. The Mono County Sheriff's Office appreciates the community response to this incident. Our public lands are beautiful in their own right, and we should all strive to protect them while responsibly enjoying them.
###
On December 12, 2015, graffiti was discovered spray-painted on a boulder near McGee Creek Road in Crowley Lake.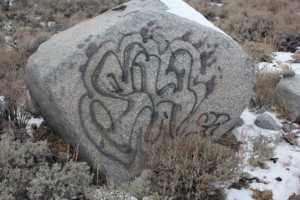 The vandalism took place on public lands managed by the Bureau of Land Management.
This defacement of public lands shows disrespect for our beautiful landscape and disregard for the law.
Please take a look at the photo. If you know who is responsible for this, please notify the Mono County Sheriff's Office at (760) 932-7549.
Or, if you prefer to remain anonymous, you can report online at http://monosheriff.org/sheriff/webform/report-crime.
###
Other vandalism included "CDD". Sierra Wave Media did not publish those photos so as not to give the criminals the publicity.