The cell phone question – "Can you hear me now?" rarely comes up in the community of Crowley because everyone knows the answer is no. However, a partnership from Nevada has filed for a permit to build the first-ever cell phone tower in Crowley.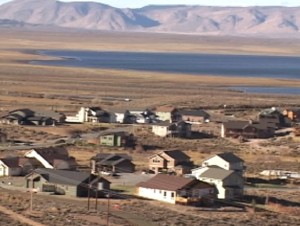 Mono County Planner Courtney Weiche (Wy-Kee) said that Incline Partners filed a use permit application recently to provide one or two cell towers to Crowley. They plan to build the tower and lease space to cell phone providers. Weiche said planners are in the process of preparing a Negative Declaration and issuing a use permit.
The plan includes up to two, 60-foot cell towers. They would resemble a mono pine tree. The big emphasis, say planners, is on visual impact. In fact, if two towers gain approval, they might have to appear at different heights, disguised as pine trees.
The tower would go up off Crowley Lake Drive on the Laundromat property at the home of Tommy Czeschin, professional snowboarder. Incline Partners would lease from the property owner there.
Planner Weiche called this project "long-awaited." She said that the Mono Community Development Department will analyze the option of one or two towers. She said residents may be willing to sacrifice some visual impact for, finally, reliable cell service. The project would also provide cell service to motorists on Highway 395.