LADWP has scheduled two public meetings this week to talk about boat access and mandatory inspections at Crowley Lake.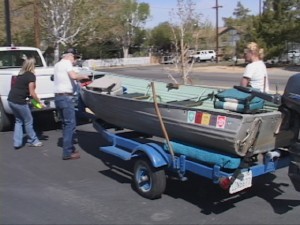 Last year, local anglers and duck hunters were upset after the LA Department of Water and Power closed off boat access to the North Shore of Crowley Lake. The idea behind the closure is to stop the spread of the quagga mussel, an invasive species said to wreak havoc on water systems around the country.
The quagga has not yet been found in the Eastern Sierra, and the Department of Water and Power wants to keep it that way. This has led to a significant change to boat use already, with boat inspections at the opener last year expected to continue this year and into the future.
To make sure every boat on Crowley Lake is properly inspected before it is launched, DWP plans to only allow boat access at the Crowley Lake South Landing through the main gate. This will leave the North Landing, Green Banks, and Layton Springs areas closed to boat launching. Road access on the North Shore has also been changed to prevent boats from being launched.
The first public meeting is scheduled for Tuesday night at 7:00 pm at the Tri County Fairgrounds in Bishop. There is a second meeting at the Crowley Lake Community Center at 7:00 pm on Thursday night.