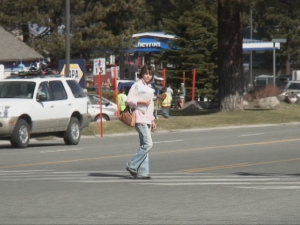 More today on the recent Mammoth Crosswalk and pedestrian sting by Mammoth Police. Commenters on our website agree that crossing Highway 203 or Main St. in Mammoth Lakes is hazardous. Police Chief Dan Watson said dialogue about the issue and public awareness does make a difference.
Chief Watson said he had participated in a number of pedestrian safety operations down South. The Chief said, "One reason we do them is to get the word out to the public. When someone gets a citation," he said, "they drive more safely over a period of time." The Chief said pedestrians need to pay attention too.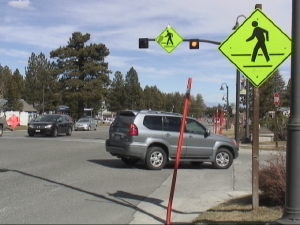 Crosswalks at the Fire Station and the Post Office come with hazards. In the winter, the marked crosswalks are sometimes obscured by snow and grime. But there is a flashing, yellow light that pedestrians can activate. The lights do not require the driver to stop but signal them to slow down.
The Chief said it is true pedestrians have the right of way once they step off the curb. The Chief himself was one of the pedestrian walkers. He said that a high percentage of drivers yielded to pedestrians. Chief Watson added that while pedestrians have the right of way, they also have an obligation to look at the driver of passing cars to see if they notice the person about to cross the street.
Chief Watson echoed previous statements by Caltrans that marked crosswalks can also give pedestrians a false sense of confidence and the inclination to just walk out into a crosswalk without looking. Both drivers and pedestrians really have to pay attention.
One of our website commenters had complained that the eastbound flashing light at the post office was not working. Chief Watson said he would follow up with Public Works.