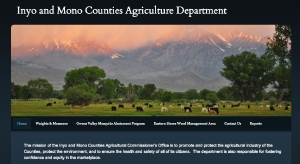 A small part of the Eastern Sierra economy, behind tourism and the service industry, is agriculture. The report for 2012 came out this week. Agricultural Commissioner George Milovich wrote that the combined agricultural production in Inyo and Mono for 2012 is $77,281,297.
That amount represents a downturn of 2.7% from 2011. Milovich said that drought conditions contributed to the decrease in cattle and alfalfa production. He said other products were affected by drought too. With a second drought now here, Milovich said further challenges are expected.
The report shows that in Inyo County livestock represents 53% of agriculture production; field crops, 31%; bees and honey, 11%; and miscellaneous crops, 5%. In Mono County the breakdown is similar – livestock, 51%; field crops, 45%; row crops, 4%; fruit crops, less than 1%; and timber, less than 1%.
Other details include farmers markets. The report says 16 growers participated in the 2012 farmers markets in our two counties. Five farms registered as organic.
This year's report also highlights the retirement of Agricultural Commissioner George Milovich. The report says he has served 36 years in the Eastern Sierra, starting out as a seasonal employee. He worked his way through many steps and become Deputy Commissioner in 1986. George took over as Agricultural Commissioner and Director of Weights & Measures in 1997 until this month. Milovich was noted for his help in development of local farmers markets, the introduction of many types of crops and a wide-ranging invasive weed management area.