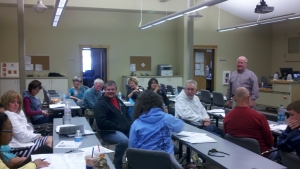 Pastoral / Spiritual Crisis Intervention  (Press Release)
Is Mono County prepared for pastoral / spiritual care support during a crisis? They are now. On 5/20/13, 20 volunteer community members attended a two-day Pastoral / Spiritual Crisis Intervention training provided by the International Crisis Incident Stress Foundation. The intent?  To build a team of volunteers that can support the various community organizations during a crisis.
The course covered a variety of faith-based resources blended with the general psychological helping skills used during times of crisis response. Highlights included common reactions to crisis and assessment, the John Hopkins model of a continuum of care, interventions that work both general and spiritual / religious in scope, the crisis of faith, the SAFER model for utilizing spiritual and religious interventions, knowing when to refer, and self-care.
The attendees were very impressed with the instructor Dr. Feldbush's experience, knowledge and teaching style. Martin W. Feldbush, D. Min., BCC (Ret.) is Crisis Care Educator / Coordinator with Adventist community Services, a partner agency with FEMA and the National Voluntary Organizations Active in Disaster. An ordained minister, he retired as director of the Adventist Chaplaincy Ministries Department at the Seventh-day Adventist Church world headquarters. He holds the Master of Divinity degree from Andrews University, the Doctor of Ministry degree from McCormick Theological Seminary, and the Certificate of Specialized Training in Spiritual Care in Trauma and Approved Instructor Certificate from the International Critical Incident Stress Foundation. He is a Board Certified Chaplain (Ret.) with the Association of Professional Chaplains.
Mammoth Hospital hosted this training while Mammoth Christian Fellowship Church sponsored the course. Volunteers received Continuing Education Units (CEU) for the two-day training. For more information, contact Lori Ciccarelli, Community Relations Director Mammoth Hospital at (760) 924-4015. Or to learn more about the training, visit www.icisf.org.