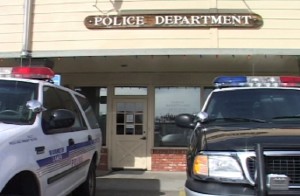 (Press Release -Mammoth Lakes Police Department)
On Friday July 27th Mammoth Lakes Police Officers were dispatched to the La Residence condominium development for a report of a found mortar round possibly used for avalanche control.  The condominium manager was cleaning out a vacant unit and discovered the device, possible left by prior tenants.
Upon arrival, MLPD officers determined that the round was not consistent with those used by MMSA for avalanche control.  They did identify it as an 81mm illumination mortar round, still currently in use by the U.S. military.
After evacuating the building and securing the scene, MLPD requested assistance from a military Explosive Ordnance Disposal (EOD) team.
Early Saturday morning, an EOD team from Fallon, NV arrived to evaluate the round and make it safe.  The round was found to be two portions of previously fired rounds that had been later attached.  The EOD team took possession of the round for further investigation, and to determine if the attached fuse was still live.
MLPD has identified the owner of the round and criminal charges are pending additional investigation.