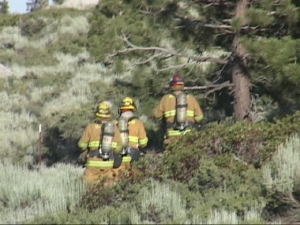 Around 6pm Tuesday evening, Mammoth Police and Mammoth Fire Department responded to a report of a major gas line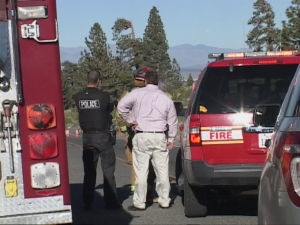 severed in the area of the Trails subdivision and Meridian blvd. Mammoth Fire Chief Brent Harper confirmed that a Digital 395 crew cut the line, but it's unclear why this happened.
On Tuesday, authorities searched for the exact location of the gas line cut. Mammoth Police blocked Meridian Blvd. going out of Mammoth for three hours. At first, the smell of propane was strong in the air. Although very stiff winds at the time diminished the odor.
Officials did not order evacuations of homes in the Trails subdivision as they had initially thought they might. Amerigas crews responded and repaired the severed line.
Chief Harper said that the Digital 395 crews called Amerigas for them to mark where the propane lines were so they could avoid them. Harper said Amerigas did mark the ground but a four-inch line was cut anyway.
Harper said the Town, which provides permits to Digital 395, and the Fire Department are working together to determine whether the line had been correctly marked.