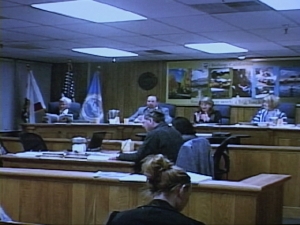 More from Bishop Police Chief Chris Carter. He talked to the City Council Monday night about the string of credit card frauds in the Bishop area.
As we had reported, Chief Carter revealed that 150 to 200 people in the Bishop area called to say they were victims of credit and debit card fraud in the past month. The Chief said the FBI has come in to help investigate what he called a "cybercrime." Chief Carter told the City Council that the crime is called "carding" and involves a computer hacker who gets access to a database and then sells the credit and debit card numbers.
Carter called this a "complex investigation." He also urged that if there is anyone else in the Bishop area who has fallen victim to credit or debit card fraud in the last few weeks, please call the Bishop Police Department. FBI agents from Fresno will be following up on new reports.
In other matters, the City Council did vote 4 to 0 to approve contracting with Leeann Rassmussen Coldwell Real Estate to market and sell City-owned mobile homes in the Sunrise Mobile Home Park only if and when residents there decide to move on.
And, Inyo-Mono Advocates for Community Action Housing official Larry Emerson asked the Council to support IMACA's applying for a State grant of $1.1 million toward reconstruction of the agency's low income housing in Bishop.
Councilman Dave Stottlemyre said he was concerned about IMACA and the fact that it has not had a permanent executive director in some time. Mammoth Lakes Housing also wanted the Council to support that organization applying for another grant for first-time home buyers.
Mayor Laura Smith said she saw the re-building of 19 homes as a priority. Stottlemyre, still clearly troubled by IMACA's ups and downs, said first-time home buyers are a benefit to the community too. He did finally support IMACA but said, "I have concerns about the internal operations of IMACA. Those need to be addressed for me to continue to cooperate with IMACA on projects."
Councilman Jim Ellis said he was concerned about 19 people being displaced if the housing were not rebuilt. All four council people present, with Keith Glidewell absent, voted in favor of supporting IMACA's application for Community Block Grant funding of $1.1 million.