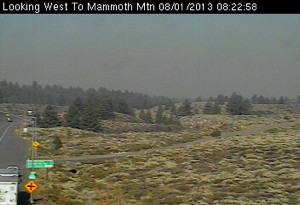 Aspen Fire smoke created Stage One Health Advisory from Great Basin Unified Air Pollution Control District for Northern Inyo and Southern Mono.
Bishop Paiute Tribe: 163 µg/m³ at 6:00AM PDT: http://trexwww.ucc.nau.edu/cgi-bin/daily_summary.pl?cams=1023
Bishop at White Mountain Research Center: http://www.gbuapcd.org/data/wmrsovl/
Mammoth TEOM @ 102 µg/m³ at 8:00AM PDT: http://www.gbuapcd.org/data/mammoth/
–          Health advisories on the web http://www.gbuapcd.org/healthadvisory
–          ASPEN FIRE info at InciWeb: http://www.inciweb.org/incident/3552/
–          Health Advisory protocol: http://www.gbuapcd.org/healthadvisory/pressrelease.htm
Particulate pollution is associated with dust, smoke and haze, and is measured as PM-10, which stands for particulate matter less than 10 microns. These particles are extremely small, less than a tenth the diameter of a human hair, and because of their small size they can penetrate deep into your lungs. Smoke associated with wildfires and residential wood burning is largely composed of particulate matter less than 2.5 microns and because of its smaller particle size can pose health risks at lower concentrations than for PM-10.  Therefore, a lower PM-10 threshold for smoke episodes is used to call Stage 1 and 2 health advisories during events caused by wildfires and woodsmoke.  Breathing PM-10 can cause a variety of health problems. It can increase the number and severity of asthma and bronchitis attacks. It can cause breathing difficulties in people with heart or lung disease. It can complicate existing respiratory infections and can increase the risk for respiratory infection in all of us. If you suffer from respiratory allergies, breathing PM-10 may aggravate your existing symptoms.