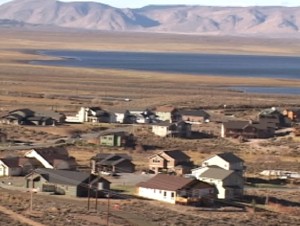 According to Swall Meadows resident, Stephen Kalish, the California Public Utilities Commission voted last week to require Verizon to provide high speed broadband to the communities of Swall Meadows and Crowley Lake.  Kalish said the PUC ordered Verizon to use its existing fiber optic  cable between Bishop and Mammoth Lakes to serve Swall and Crowley as part of the resolution of another issue with Verizon.
Three years ago, the PUC did start to look into Kalish's complaints that Verizon had violated the PUC regulation that all communications or electric utility facilities within 1,000 feet of a scenic highway must be placed underground.  Verizon put their fiber optic above ground along Highway 395 between Bishop and Mammoth Lakes.  Kalish and other residents brought this issue to the PUC's attention and that of local government.  That was at least three years ago.
The PUC investigated and issued a resolution last Thursday which grants a deviation on the scenic highway rule with a $5,000 fine.  But the PUC also ordered Verizon to provide broadband service to Swall Meadows and Crowley within 18 months of the approval of this PUC resolution regardless of the outcome of Verizon's application for grant money to pay for this project.