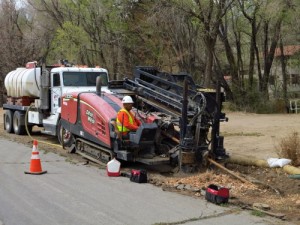 As expected, the California Public Utilities Commission did vote to approve $10 million in state money to Digital 395 to complete the fiber optic line project.
Originally, California Broadband Cooperative, the owner of Digital 395, received roughly $20 million from the State and $80 million in federal stimulus funds. According to the PUC resolution approving the additional $10 million, these funds are needed because of new pole loading requirements, unanticipated boring costs due to environmental and cultural issues, and construction costs for the so-called backbone of the system that will connect with anchor sites in our communities.
Bureaucratic permit fees ate up nearly $1.7 million of the Digital 395 funds. Project builders dealt with 41 government agencies. On top of this, the California Department of Fish and Wildlife required a mitigation monitoring and reporting plan for the desert tortoise population which cost and unexpected $3.7 million in fees. The PUC's changes on pole load requirements will cost an extra $2.5 million.
When asked which areas of the Eastern Sierra still need work, Mike Ort of Praxis, the company building Digital 395, said eight miles in the Inyo National Forest which he said would complete the backbone of the system. Other areas of construction include June Lake, Benton Reservation, Lone Pine, Walker, Parts of Bridgeport, Johannesburg, Pickel Meadows Marine Base and some other areas.
Suddenlink Cable had recently announced increased internet speeds in Mammoth Lakes. Officials said this was the result of Digital 395 completing its work in Mammoth.