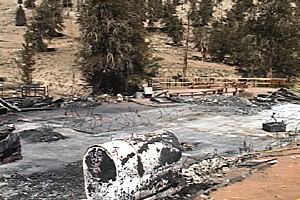 More than a year ago, the popular Schulman Grove Visitors Center in the Bristlecone Pine Forest burned to the ground. John Thomas Christiana faces charges of arson in that fire. Inyo Court has scheduled him for an appearance next week.
Christiana is representing himself in this case which follows on the heels of a case in Mono County in which Christiana pled to felony vandalism of the White Mountain Research Station in the White Mountains.
The court has scheduled Christiana's preliminary hearing for the morning of December 16th.
Inyo murder suspect Louis Leplat is scheduled for court December 14th. He had appeared this week for the appointment of a new attorney. No decision was made, and the case was continued.
His attorney for over a year, Elizabeth Corpora, made a motion to leave the case over issues of potential conflict.
And the Lone Pine man arrested on drug charges when he was stopped for suspicion of hunting deer out of season is scheduled for the setting of a preliminary hearing. That date-setting appearance is scheduled for January 4th.
Inyo narcotics agents served a search warrant on the home and vehicle of Scot Heckethorn. They said they found drug paraphernalia and drugs.