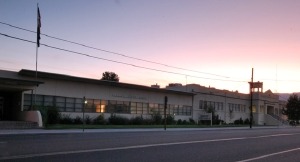 Many cities and counties have an eye on a case that started in the City of Lancaster and state court. The case later went to the U.S. Court of Appeals and a decision is out on the challenge to prayers before public meetings.
This issue of prayer before public meetings came up in the City of Bishop when officials decided they should establish an invocation policy based on law and legal precedent. Courts have determined that the First Amendment of the Constitution prohibits government from establishing or endorsing any particular religion.
Prior to the City Council adopting invocation guidelines, a Buddhist man had requested delivering an invocation in Bishop. The City's guidelines ask those who give a prayer at the start of a Council meeting to avoid references to specific deities like Jesus Christ, Buddha, and Allah. The policy does permit more generic terms like God and Creator.
In the Lancaster case, the judges ruled in favor of the City. Their decision said that "a Bishop's single reference to Jesus in an invocation did not amount to a violation of the Establishment Clause (of the First Amendment). The Court found that public prayers are legal if they do not "proselytize, advance, or disparage one religion or affiliate government with a particular faith."
Two citizens had sued the City of Lancaster after one pastor used the name of Jesus in a public prayer. The case went to the Court of Appeals. The judges said they "saw nothing in the record or in the prayer policy to indicate that the City had affiliated itself with Christianity."
The Court confirmed the lower court decision which found that the city had invited people of all faiths to lead them in prayer and had not endorsed Christianity as a state religion. According to news reports, the attorney for the plaintiffs, Roger Jon Diamond, said he plans to appeal to the U.S. Supreme Court after seeking a rehearing with the Ninth Circuit Court of Appeals.
Asked if adoption of invocation guidelines by Bishop was a wise move considering obvious legal risks, City Attorney Peter Tracy said, "As I made it clear, I didn't like the idea of adopting the Rubin V. Burbank invocation guidelines, but I have no question that adopting them was wise considering the legal risks. Assuming the Lancaster case becomes final as written," he said, "and I'm guessing it will, there is open the alternative of using the Lancaster invocation guidelines which the Ninth Circuit has approved rather than the Burbank invocation guidelines. This issue will be discussed at some time in the future," said Tracy.
The Lancaster guidelines do not prohibit the mention of deities of religious sects but do require that all faiths be invited to participate.