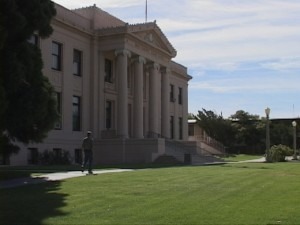 In news of current court cases, a settlement conference unfolded last week in the case of Rebecca Bragdon, who is accused of embezzlement, misappropriation of public funds, forgery and theft from the Tri-County Fairgrounds.
District Attorney Tom Hardy said no solid developments came out of the settlement conference. Another status conference is scheduled for July 30th and a preliminary hearing is scheduled for August 21st. News had surfaced last August that money was missing from the Fairgrounds. In addition to embezzlement, Bragdon faces allegations that she misused Fairgrounds credit cards and allegedly took an iPad.
In the case of Cherie La Braque, DA Hardy said the case is in somewhat in a holding pattern because her attorney, Jeremy Ibrahim, took a job for the State Bar and attorney Tim Sanford will come in on the case. He needs a couple of weeks to get up to speed on the case. LaBraque, a former Northern Inyo Hospital employee, faces 32 misdemeanor charges of knowingly accessing confidential medical records without permission. Hospital officials had said when they became aware that La Braque had accessed confidential files, she was fired.
And, in the case of Dawndee and Kenneth Rossy, accused of embezzlement of $1.5 million in Inyo County welfare funds, there has been no recent action, In Mid-May the Court denied a motion to suppress statements made by Mrs. Rossy to investigators. A trial date for the couple remains set at October 6th.