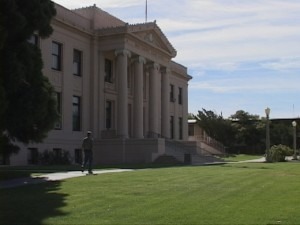 Inyo citizens remain divided in their views over plans for a new county office complex at the Wye in Bishop.  The price tag will reportedly top $15 million. This plan led some residents to try for a ballot measure and a public vote.  That effort failed, but citizens still watch closely for more public debate on this major project.  On that note, the Inyo Supervisors have scheduled a special meeting for Monday (today) to tour county offices prior to their consideration of non-binding terms on the new office deal.
The County did decide to negotiate exclusively on this project with Joseph Enterprises of Bishop.  They have reached a stage to approve a non-binding agreement with the Josephs.  Officials call it a "term sheet".  If this project does go forward it would consolidate all county offices into one location.
Supporters of the project say it would save money since the County would pay the Josephs to buy the complex over time and eventually own it.  Others point out that this move would leave more vacant buildings in Bishop and take more money out of the economy.
The tour of county offices was scheduled to start at 9am at 207 W. South St. and proceed through seven locations.  Check out the schedule on our website, sierrawave.net. The public can also call 760-878-0373 for more information on this tour and issue.
The public will have a chance to speak and ask questions at the Supervisors' meeting on Tuesday, March 13th when they will consider the non-binding agreement with Joseph Enterprises.  That item had been previously scheduled for February 28th.  Officials said the Board would continue the item to 9:30 am, March 13th.
TOUR SCHEDULE
Monday, February 27th, times are approximate.  Depending upon the length of the discussions at each location, the tour times may be later than published, but will not begin earlier than the scheduled time.  At each location there will be a brief tour of the respective office space during which time the Board will discuss office functionality, departmental services, and office space needs with respective department representatives:
9:00 a.m.    207 W. South Street, Bishop –
Health and Human Services Department (Public Health Services)
Environmental Health Department
Agricultural Commissioner Department
Farm Advisor
Public Works Department (Building and Safety)
Sheriff's Department (Veterans Service Office)
9:45 a.m.    568A West Line Street, Bishop
Health and Human Services Department (WIC Offices – Children and Families Services)
10:00 a.m.    301 W. Line Street, Bishop (Bishop City Hall – Clark Wing)
Sheriff's Department – Bishop Sub Station
10:30 a.m.    230 W. Line Street, Bishop (Bella Vous Building)
District Attorney Department
Child Support Services Department
11:15 a.m.    162 Grove Street, Bishop
Health and Human Services Department
(Behavioral Health Services – Social Services – Senior Services)
Public Administrator/Public Guardian Department
12:00 p.m.    920 N. Main Street, Bishop – (Behind the Taco Bell)
Health and Human Services Department (Employment and Public Assistance Services)
Probation Department
12:30 p.m.    163 May Street, Bishop
Health and Human Services Department
(Administrative and Fiscal Divisions – Prevention Programs)
County Counsel Offices
County Administrative Offices
(Integrated Waste Management – Motor Pool – Parks and Recreation – Risk Management – Personnel Services)
For further information regarding the meeting schedule changes you may contact the Clerk of the Board at 760-878-0373.