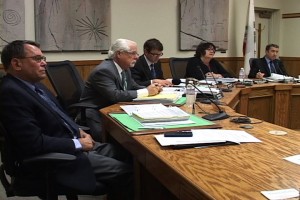 It will cost a million more dollars now than it would have 19 months ago, but even so the Inyo Supervisors think it is now or never for a Consolidated County Office Building in Bishop. After hearing new details, the Board voted unanimously to okay non-binding documents on the project.
Deputy Public Works Director Jim Tatum told the Board that the current plan involves a nearly 42,000 square foot building with parking for 286 vehicles. The location is land to the south of Eastern Sierra Motors. The land is owned by Joseph Enterprises of Bishop.
Tatum said the current plan includes conference room areas available to all departments, modifications to the clinic areas to be more user-friendly, and details that make it a modern building, including reception and coffee areas.
Alan Kotin, a real estate economist, explained the money part to the Board. He said interest rates and construction costs have gone up. The original $600,000 per year payments on the lease/purchase deal have gone up to around $690,000. He said originally County-owned land was included as part of the deal, but developers said their costs have gone up and they prefer not to take the land as part of the payment. So, now the County can sell it or lease it. Cohen said the total cost of the project is now around $10.9 million, up from $10.6 million.
Cohen said that while costs for the project have gone up, it will give the County better quarters for its operations, and allow savings and control of costs. He said the County will not have to pay property taxes, will save a lot on utilities and even personnel costs over time. Cohen, who said he does these kind of deals for public agencies, said the project will allow Inyo to determine its own fate. He also pointed out that building and financing costs will likely do nothing but go up in the future.
Right now, Inyo County pays $357,000 in rents for seven Bishop office locations. This does not include utilities, which Tatum said could be reduced by as much as 30% in the new building. Considering all costs, and depending on savings, Tatum said the County could break-even after close to seven years. The lease/purchase arrangement would mean payments of around $690,000 per year for twenty years. Then, the County would own the building.
There would be other costs – moving to the new facility and possibly some new furniture. Board Chair Linda Arcularius said, "Owning our own facility is a long-term benefit. The time is right. It's a big step, but it's now or never."
Supervisor Matt Kingsley said he felt "conflicted about the building." He said he was disappointed that the County land was out of the deal. Kingsley said the proposal would cost around $300,000 more than current annual lease payments and could have an impact on County budgets.
Supervisor Mark Tillemans said there is risk, but "the alternative is riskier. The numbers make sense, and a good working environment is important," he said. Supervisor Jeff Griffiths said he thinks the time is right. He said, "The stars are aligned. In 2038, we will have zero lease payments."
Supervisor Rick Pucci supported the project but said if the County-owned property were to go to private hands it would be a greater benefit. He also expressed concern about the vacancies that will be created in Bishop when the County leaves its current locations.
Steve Joseph of Joseph Enterprises told the Board he and others wanted to build "something lasting that we could be proud of." He said, "I know it's a difficult decision, but it sounds like you're making the right decision."
The Board voted unanimously to approve the non-binding Concept Plans and Term Sheet. They authorized the staff to work on a final deal.