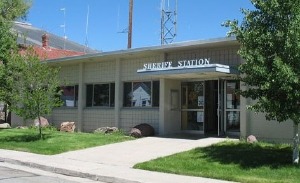 In February, former Mono Sheriff's Deputy Jon Madrid won an administrative appeal hearing of his termination. The Arbitrator stated that Mono Sheriff's Department management acted in a "discriminatory and capricious manner" and forced Madrid to sit in a chair for nine hours a day. The arbitrator called the practice "demeaning and insulting to a sworn peace officer." He ordered Madrid reinstated with all back pay. Mono County has not reinstated him, and now Madrid has filed a federal lawsuit that alleges violation of his rights of free speech. The Mono Supervisors and County Counsel planned to confer on this case in closed session at Tuesday's Board meeting.
The lawsuit was filed against Mono County and against three officers individually and in their capacity with the Sheriff's Department. Named in the suit are former Sheriff Rick Scholl; then Undersheriff Ralph Obenberger, who is now Sheriff; Lieutenant David O'Hara, and other unnamed defendants.
The complaint, filed in the U.S. District Court in Sacramento, speaks of Officer Madrid's twelve years of service in the Marine Corps and numerous tasks within the Mono Sheriff's Department. The complaint said Madrid had received no fewer than 43 commendations. The suit says the trouble started when Madrid spoke out about "the mishandling of medications for jail inmates" in alleged violation of the law. The suit also says he disclosed information about the falsification of a report by another member of the Department.
Madrid's attorney then describes what he says was a string of retaliations and harassments for Madrid having spoken out. He was ordered to not report crimes or help those in need while off-duty. The complaint said Madrid was "unreasonably denied his Advanced P.O.S.T. certificate." The suit goes on to say that Lieutenant O'Hara was overheard publicly stating that his goal was to have Madrid terminated. According to the complaint, Madrid informed Undersheriff Obenberger who took no action. Madrid's attorney said his client was called into defendants' offices and questioned about his divorce, personal finances and relationships. He alleges the officers used this "unlawfully acquired information" against Madrid in his appeal hearing.
The complaint says from 2008 until his termination in 2011, the defendants eliminated or denied Madrid's special assignments with no explanation. The attorney calls this and other actions "retaliation for his protected speech." The complaint says in 2011, defendant Obenberger "initiated a sham investigation against Madrid for alleged theft of County gasoline." The allegations, says the suit, were unfounded. The same year, Madrid was terminated on the basis of failure to account for ten hours of time on his time cards, worth $381. That allegation was dispelled during the appeal hearing.
In 2012, Madrid was ordered by defendants to return to the Sheriff's Department where he was forced to sit in a chair and greet people. The complaint said, "There existed no reasonable necessity to have plaintiff return to work and be seated in a chair like a child for nine hours a day." The defendants' actions were "clearly intended to intimidate, harass and retaliate against him for his protected speech." Former Sheriff Rick Scholl, according to testimony, reasoned that the chair punishment was okay because his predecessor had done it.
The complaint includes other allegations of a "campaign of retaliation" against Madrid. The complaint asks for Madrid to be reinstated and to award damages and attorney's fees and costs. We have emailed former Sheriff Rick Scholl and current Sheriff Ralph Obenberger for their comments.  Sheriff Obenberger said he would let the Mono County Counsel respond for the Sheriff's Department.  County Counsel Marshall Rudolph said the County does not comment on ongoing litigation.