More media coverage for the controversial Steve Searles of Mammoth Lakes, better known as the Bear Man. A Los Angeles Times reporter found Steve a fascinating character and wrote a long, column one story. Ever since media from ABC Nightly News to Australian TV have made their way to Mammoth Lakes and to the bearded, tall, lanky Searles for his story of how he can handle bears.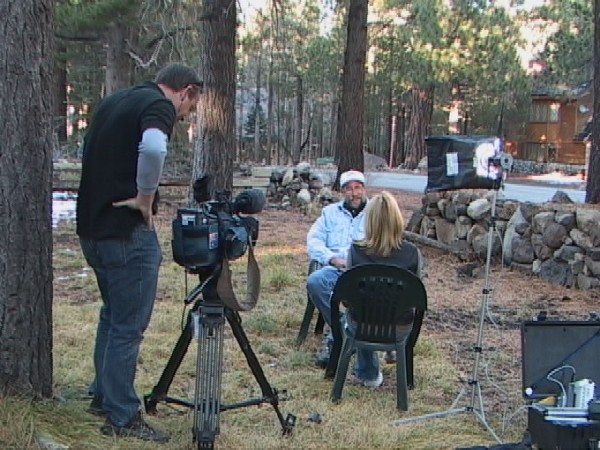 In his own home town, Searles has his detractors but also his large bevy of supporters like the crowd that turned up at a Town Council meeting. The ABC Nightly News offered Searles a still wider audience – nationwide. Searles' sensitivity to the big animals and formal program of non-lethal bear management, plus his own unique character attracts camera and reporters.
Cleland Hoff caught up with Searles and Australian television reporters. Leila McKinnon from Channel 9 in Australia explained why the crew came to Mammoth Lakes. McKinnon said that Channel 9 has a bureau in Los Angeles where they saw the LA Times story about Searles. The reporter said they were interested in Searls' philosophy and ways of dealing with bears.
Ms.McKinnon said Steve's story will probably air in December or January and will also appear on the Channel 9 website. www.9msn.com.au