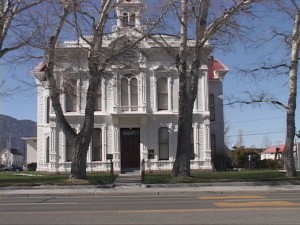 Attorney Allen Berrey, who represents a man who was stopped and searched by Mono Sheriff's officers last year, tried to explain that case to the Mono Supervisors this week in public comment. A closed session on the case was scheduled for the Board and their lawyers. Attorney Berrey now awaits word on the Board's decision on his counter-offer to settle the case.
It was last July that two Mono officers stopped Youssef Boulaalam, claiming they thought he was driving under the influence. However, they did not investigate his sobriety. Instead, they searched his car and found a handgun which he told them was there. Weapons charges were filed but later dropped when Judge Mark Magit threw out the gun evidence based on no probable cause for the stop.
A claim, containing no stated dollar amount, was filed against Mono County in January. The claim alleged civil rights violations, fabrication of evidence, false arrest and imprisonment and violation of Fourth and Second Amendment rights. The claim arose out of the traffic stop and search of Mr. Boulaalam's car and his arrest. Mono County rejected the claim. Before proceeding with a lawsuit, attorney Berrey said he made an offer to settle the case in June.
Berrey said the County rejected his offer and counter-offered an amount that would only cover Mr. Boulaalam's legal fees and expenses in the criminal case and for pursuing the claim for damages. Berrey said, "We rejected that offer and counter-offered an amount slightly below our initial one. That counter-offer," he said, "is the one the Board considered Tuesday." The Board's decision is pending.
Part of the evidence in this case is a DVD recorded by the Sheriff's car dash camera which reveals the stop, search and comments by the officers.