The cause of the collapse of Mammoth's Lake Mary Rd. bridge remains under investigation. It was a sudden and shocking development last month when, on a Friday evening, the tunnel and bridge fell straight down on the road. No one was hurt. Today, a new bridge zooms along with completion expected before Thanksgiving.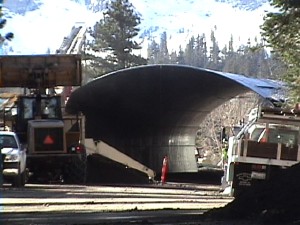 Mammoth Town Manager Rob Clark said the construction of the new bridge moves along on track. The new structure is a metal bridge similar to what existed previously. Clark said the structure comes in sheets which are bolted together and attached to new footings.
Crews now work on a back-filling process which is very sensate and has to proceed very slowly to carefully balance out the new bridge. An engineer remains on scene to guide this process.
The gondola for Eagle Lodge goes right over the bridge structure. (Photo: Cleland Hoff)