In a town where housing costs sometimes exceed whole paychecks, Mammoth Lakes Housing, Inc. has gone a long way to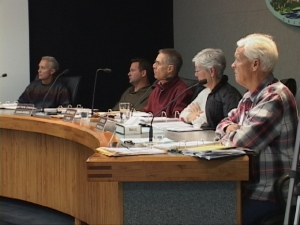 make sure people have a place to live. Even so, affordable housing in Mammoth Lakes stirs controversy. A mini-tiff over housing surfaced at the Town Council meeting. One councilman called affordable housing "socialism."
Pam Hennarty of Mammoth Lakes Housing went to the meeting to seek approval of an application for funding and an agreement for a planning grant. Hennarty revealed that there are still many people in need of affordable housing. She said there is currently a waiting list of 92 households for affordable units.
Councilman Matthew Lehman brought up what he sees as the negative impacts of affordable housing on the Mammoth Lakes real estate market. Hennarty pointed to the serious needs of housing for the low income. Councilman Rick Wood said the Town is not handing out housing. He said Mammoth voted to tax themselves for housing. "The social fabric," said Wood, "is enhanced by housing." Wood said he thinks the new housing projects are forcing landlords and "slumlords" to fix up their units.
Lehman shot back that Mammoth "created a socialistic society driving property values down." He said there's a limit to affordable housing. Mayor Skip Harvey said with his restaurant business, he has seen housing available to employees. "I have seen slumlords," said the Mayor, "with outrageous rents and high utilities because of the lack of insulation. I couldn't support affordable housing more," he said.
With that the Council voted to approve the planning grant for housing. Even Councilman Lehman voted yes in the unanimous approval.