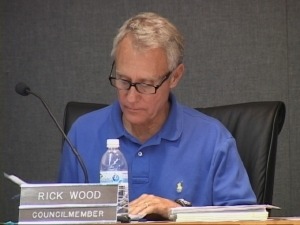 "Everybody has it on their minds," said Mammoth Town Councilman Rick Wood. He referred to the some $40 million airport lawsuit debt that the Town will have to pay. Citizens fear the impacts, and rumors circulate daily and point to multiple, possible scenarios. We checked in with Councilman Wood, who has attended meetings with the other side, men of Mammoth Lakes Land Acquisition. Wood and Mayor Jo Bacon will represent the Council in this thorny issue.
I asked Wood about a current rumor that MLLA might want to form a focus group of community people to help work on how to pay the debt. Wood said he would be quite surprised if that were true. "The latest from them," said Wood, "is that they want to deal directly with Town staff. Council people are observers. We take the temperature of how things are going," said Wood. "Town Councils in years past didn't pay attention. That's why we're in trouble."
Wood said Jay Becker and Terry Ballas of MLLA traveled to Mammoth Lakes a couple of weeks ago and spent several days here to go over financial information. "They appreciate the transparency and helpfulness," said Wood. "It's been a burden on staff, along with all the work on the budget." Wood said as of ten days or two weeks ago, relations were "cordial."
The Council will call on experts when needed. Wood said that the financial consulting firm of Kibel Green helps with MLLA matters when necessary. After the information gathering phase is over, comes negotiation. Wood said that the Town has experts – a bankruptcy counsel and others. He repeated that council members are observers. "We won't negotiate the deal," said Wood. "We have trust and faith in our staff and the experts."
To the persistent rumor that Mammoth now plans to file municipal bankruptcy, Wood said, "No. This is not complicated. We're either going to come to agreement on what we can afford to pay, when and how or we will look at other options then, such as bankruptcy. Personally, I'm not afraid to use it," he said. "Both sides are on the same page – we don't want to use it." Wood later added that even mediation remains an option.
Wood predicted that substantive negotiations would start to take place in early July. He pointed to a "stand still agreement" in effect that says the Town will not file for bankruptcy and MLLA will not take any action to execute on assets or income. Wood said the agreement was designed to present a "non-charged atmosphere to get down and provide information to lay a foundation for substantive negotiations." He said the stand still agreement would not last forever.
The goal of negotiations, said Wood, is to reach a sustainable agreement. "I hear rumors," said Wood. "Everybody has this on their minds. What I can say is we are giving MLLA information. When they are satisfied with information on revenue, expenses, assets and liabilities – once the picture is fully know to everyone's satisfaction, then we will have informed discussion."
Wood, Mayor Bacon, Marianna Marysheva-Martinez and Town Manager Dave Wilbrecht will be the ones to meet with Becker and Ballas in the exclusive high rise building in Santa Monica across from the beach. The conglomerate of businesses unfold there – Raleigh Enterprises, Mammoth Opportunity LLC, Northfield Aviation and many other ventures. Mark Rosenthal is another primary in the network of businesses. Locals in the small town of Mammoth Lakes hope the big guys don't bring their town to its knees.