The lay-off of Town of Mammoth workers continues to eclipse the feud over bear management, but the bear issue continues to develop.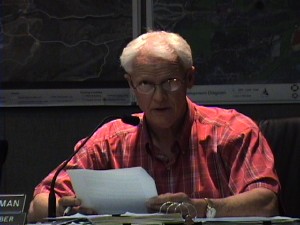 Councilman John Eastman, who publicly led council members to the political reality of support for Steve Searles services, drew criticism from workers in the Mammoth Police Department. Eastman held his ground and said he would do what he believes the majority of people in Mammoth want.
At the invitation of Mammoth Police officers, Eastman did meet with some of them. He said that they had "an open and pointed discussion about most of the things that had been said and written by both parties over the past few weeks."
Eastman said he did apologize to the officers present for "any personal or departmental embarrassment I may have caused them with my writings." Eastman said that he also reminded the officers that this is "Not about either myself or the police department. Rather," he said, "this issue is about the rehiring of Steve Searles as the Wildlife Specialist for the community of Mammoth Lakes. This is something that I truly believe is being requested by the great majority of both the residents and visitors."
Eastman and Councilman Neil McCarroll planned to get together this week to continue to work on a proposal for Searles. McCarroll said that they would meet with Searles this week, too.
In a comment to KSRW, Eastman added that he had indicated to the police that if Searles is rehired, "I also want to ensure that the work environment for Mr. Searles is one of cooperation so that his work will be successful. Steve is a pretty simple guy," said Eastman. "He just needs to be allowed to do what he does so well."