Mammoth Councilman Skip Harvey is ready to take this year's Fourth of July celebration in Mammoth to a new level. His goal is to take the Main Street Block Party and connect it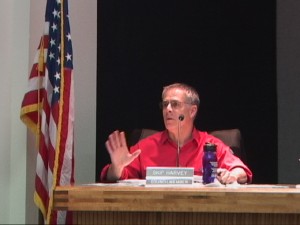 throughout town, especially up and down the entire length of Main Street. Harvey has been working with Town staff as well as Caltrans to figure out how to reconfigure the traffic on the south side of Main Street so that South Frontage Road becomes a one-way traffic lane as well as a multi-use path (MUP) for pedestrian access. The MUP would connect pedestrians to existing paths at Callahan Way and Bank of America. Vehicular traffic would only be allowed to move in a westerly direction.
The expanded Block Party has been dubbed "the Summer Celebration," and would encourage all business owners to spruce up their storefronts, therefore giving an overall animated vibe to Main Street and beyond.
Harvey claimed that he had spoken to the business owners on Main Street and they had been very receptive to the idea. Many even suggested that the traffic diversion be kept in place throughout the summer rather than just the three-day holiday weekend.
While the length of the traffic diversion would have to be discussed further, Councilman John Eastman was thrilled at Harvey's attempt to put a positive foot forward for the town.
"Skip, you had me at helping animate Main Street," Eastman stated, voicing his approval of the plan.
The expected cost to make the Summer Celebration happen would be approximately $12,200 according to Harvey, but $7,700 of that is labor that the town would be paying for anyway elsewhere in town.
Harvey also threw out the idea of waiving special event permit fees for the business owners to further encourage them to take part in the Summer Celebration. Generally a special event permit fee is $158 according to Tourism and Recreation Director Danna Stroud, who supported the idea of waiving the fees.
"Special times call for special measures," Stroud stated.
Harvey followed up by stating, "We really need to show our visitors a good time, especially this year."
Council unanimously approved continuing work on the idea and waiving the fees.