As the Mammoth Town Council prepares for a meeting Wednesday night, officials also wait to hear from Mammoth Lakes Land Acquisition on a  counter offer from the Town.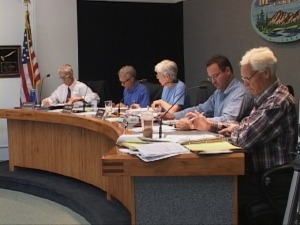 According to Town Manager Dave Wilbrecht, negotiations between MLLA and Mammoth over the $42 million lawsuit debt resulted in an offer of settlement from MLLA.  Mammoth has posed a counter offer.  Officials remain close mouthed over details.  Financial consultant Marianna Marysheva-Martinez said earlier that the seriousness and huge amount of this debt warrant private talks.  She also pointed to a confidentiality agreement signed by both sides.
It is known that both sides have been talking about amount and terms of payment from the Town to MLLA.  Town Manager Wilbrecht said that Mammoth made a counter offer to MLLA's offer and hope to hear back from them before Wednesday night's meeting.  The Council has scheduled a closed session discussion on the MLLA debt at the end of Wednesday night's meeting.
Earlier on Wednesday's agenda, the Council will receive a status report on the Transient Occupancy Tax Enforcement and Revenue Collection Program.