Bear management and the possible renewal of the Wildlife Specialists contract are on the Mammoth Town Council Agenda Wednesday night.
It was a rough year for bear management in Mammoth. Steve Searles returned to work, and the Town tried to rebuild the bear management program after two years in the wilderness along with a failed experiment to create a non-profit to run the show.
This summer saw numerous home break-ins by bears, which led usually bear savvy residents to say enough is enough and request depredation permits for a sow and her two cubs. The fourth bear that was reported to be causing a lot of trouble was the bear known as Blondie. The non-profit Bear With Us had worked to relocate this bear that had at one time lived with a depredation permit over its head. Though no one knows exactly how or why the bear dropped out of sight, Blondie eventually went away, and home invasions dropped.
A newly reported edition to the bear drama this year is a twist on the saying, a fed bear is a dead bear as a homeowner in Old Mammoth was reportedly feeding bears dog food while neighboring homes continually suffered break-ins.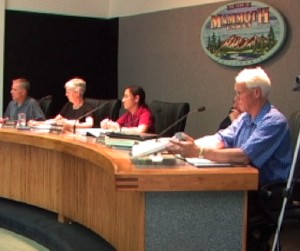 Kevin Brennan with the Department of Fish and Game says feeding a bear, while illegal, requires that the warden prove that a person intended to feed the wild animal. Its difficult for a warden to build a case, Brennan explained, and the many hours of work would be greater than the fine levied. Brennan suggested that a civil lawsuit might be more effective.
In Mammoth, Town Wildlife Specialist Steve Searles explained that he had to witness the feeding in Old Mammoth to prove a direct connection. The individual was cited for violation of a town ordinance and a $25 fine.
Issues of how a Town-hired wildlife contractor can fit into the legal framework of state and federal government agencies is yet to be worked out. Up for discussion at the council meeting – whether or not to send Searles off to law enforcement training so that he can legally use firearms and firearm-based hazing techniques that he has used and developed in the past.
The Town wildlife subcommittee has included mostly Town staff and council members. At the meeting Wednesday the council will consider adding Fish and Game staff, Forest Service staff, the wildlife contractor, currently Searles, and a member of Bear With Us.
The issue of renewing the contract with Searles for next year is also on the agenda. The Mammoth Town Council meets Wednesday night at 6:00 in the council chambers upstairs at the Minaret Shopping Center.