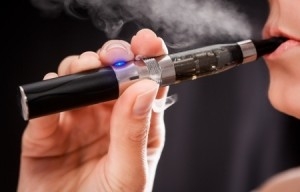 What sounded like a good thing at first, has turned into a warning from health officials. Electronic or e-cigarettes are now thought to actually encourage smoking instead of help to stop the habit. The Town of Mammoth joined with many other cities in a vote to include e-cigarettes in the Town's tobacco restriction ordinance. Where you can't smoke, you can't smoke e-cigarettes either.
Town Manager Dan Holler told the Council it would be a policy matter to include e-cigarettes along with tobacco product restrictions. Holler pointed to the opposing views on the electronic smokes – an aid to quit smoking or, as health officials say, a gateway product to smoking.
Nancy Mahannah of the Mono Health Department told the Council that there is "good community support for tobacco control." She spelled out Mammoth's history for banning smoking before state government did over the years. Mahannah also pointed out that Mammoth Mountain has said use of e-cigarettes where smoking is not allowed has been an "enforcement nightmare."
Manager Holler said the staff did not have a recommendation but that the Town Attorney could easily add e-cigarettes to the Town ordinance. Mahannah also told the Council that the so-called vapor that comes out of e-cigarettes contains chemicals, including nicotine. She said they are not regulated by the FDA.
The day before the Town Council's vote, the Los Angeles City Council had voted 14 to 0 to ban e-cigarettes. The Mammoth Council voted unanimously to bring back changes in the Town tobacco restriction ordinance to include e-cigarettes.