The months pass by and still the deserted Cottonwood Plaza in Bishop remains surrounded by chain link fence and questions about the future.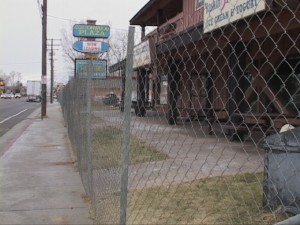 Joel Johnson of KK Properties in Roseville, California, said only that the company is "still working" on a purchase of Cottonwood Plaza. KK Properties had entered escrow with center owner, Lee Crosby of Bishop. Both parties speculated a conclusion to the deal by the first of the year. That didn't happen, and a request was filed for an escrow extension.
Johnson said very little about the hold-up except that KK Properties "hopes to develop a viable center for the community." Do they still want lessees for future occupation of the Plaza? Johnson said that the former Burger King space is available for leasing, but not the rest of the plaza.
Johnson repeated that KK Properties decided it was not economical to fix up the plaza and lease it out. Instead, they want to find one user, demolition the buildings and start over.
City of Bishop officials confirmed that once the plaza had sat vacant for a long period of time, re-occupation would require strict adherence to current codes, fire codes in particular.