Bishop's Cottonwood Plaza shopping center has stood vacant for many months, surrounded by chain link fence and memories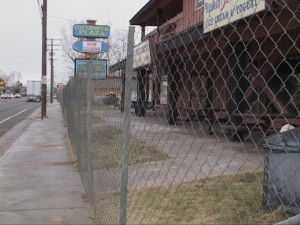 of a once lively mall. Realtor Stan Smith assures the plaza remains in escrow with one more issue to resolve.
That issue is soil contamination apparently from a long ago gas station that was located on the same site. Smith said that Lahontan has the soil samples and found some very slight contamination near the former Burger King building where years earlier a gas station operated.
Team Engineering worked on this issue which has been tied up in bureaucracy for some five or six months. Smith said a Lahontan division manager now has oversight on this matter. Once it's cleared up, Smith said, escrow will close.
The buyers are in a formal escrow with owner Lee Crosby of Bishop. Stacy Bardfield of Mammoth Sierra Properties represents the buyers who have been described as a husband and wife. She could not confirm their identity until escrow closes.
It is known that the buyers plan to bring an El Pollo Loco restaurant to the former Burger King site. They reportedly own two other franchises elsewhere.