Earlier hopes predicted a completed sale of the deserted Cottonwood Plaza in Bishop. The fate of the center hangs somewhere between revitalization and demolition.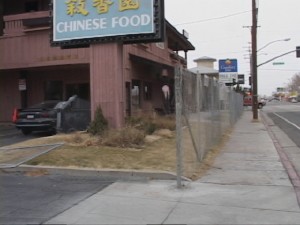 City of Bishop officials said that there last information was that the center remained in escrow with Katz Kilpatrick Properties of Roseville, California. Reports indicated that both sides agreed to an extension of the escrow.
Initially, KK Properties broker, Joel Johnson, said that the company planned to refurbish the center and lease spaces. More recently, Johnson said that the company determined it was not economical to redevelop. He said based on the cost to fix up the buildings according to new fire codes, company owners would instead look for one user and demolish the current center.
Johnson had said there were prospects for one big store to locate in Bishop on the Cottonwood land. He declined to say what store.
Owner of the plaza, Lee Crosby has been unavailable for comment.