Apparently, the Cottonwood Plaza in Bishop has sold. At least that's what a sign on the center says.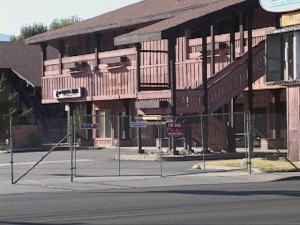 Cottonwood Plaza closed down, surrounded by chain link fence a few months ago. The master lessee seemed to force out remaining tenants and then shut it all down.
Land owner, Lee Crosby declined to sign a demolition permit and put the whole center – land and buildings – up for sale. On Friday, Bishop City Administrator Rick Pucci said that Mr. Crosby had called him to say that he was entering into escrow with a company out of Sacramento, shopping center developers.
Pucci said he did not know exactly what the company would do with the plaza. Pucci said that legal complications seem to remain to some extent.
Earler, realtor Stan Smith confirmed he would handle the sale of the plaza which was listed at $1.95 million. At that time, Smith said the property for sale includes 2.6 acres of land and 45,200 square feet of building.
At that point, in mid-September, Smith said an offer had come in from a Sacramento Development company that he said "would like to rehab the plaza."
We have placed calls to Mr. Crosby and Mr. Smith for more details.