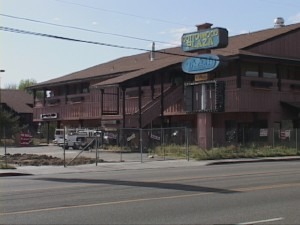 The secret and occasional wish on the minds of many in Bishop?  The revitalization of the deserted Cottonwood Plaza, once an energetic shopping and office complex. A newly erected sign at the center has raised hopes. The sign says that Rudolph Construction of Bishop has become the general contractor for re-opening the plaza.
Liz Eslamiyeh, owner of the plaza, reportedly developed a consortium and formed Yaney Corner, LLC to move forward with the Cottonwood renovation. She hired Rudolph as general contractor to build and oversee all operations. Work has started although it may not be immediately obvious. Architectural plans have come together and the center had to be made fire safe. That work is mostly done.
Architect on the project, Tom Schaniel  said that infrastructure projects come first with new transformers and panels from Southern California Edison. He said renovation will start in the building on the corner of Yaney and Main Streets. From there, crews will move on to other building sections and the area that once housed Burger King. It is not known what will go into that space yet. Schaniel said of the entire plaza, "It's going to be upgraded and modernized. There are more long-term plans, a few options, but none are set at this point."
Schaniel said that a major part of this project will be new and improved landscaping to change the feel of the center. Landscape architect Josephine McProud and Associates of Nevada City was hired. Schaniel said the firm has done other work here and is familiar with the area.
As for potential tenants, Schaniel said many would like to see actual building and changes before they commit. The architect said that "the process is moving forward. There is a lot going on behind the scenes."