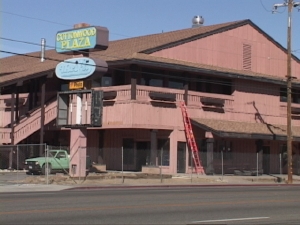 Trouble for Cottonwood Plaza in Bishop started nearly five years ago with the eventual closure and fencing of the center. Although the plaza did sell and has undergone rehabilitation, it is still closed. Architect and spokesman on the project, Tom Schaniel  said the owner did have to focus on other business responsibilities but is now back on track with Cottonwood.
Schaniel said that there is a new wave of activity and owner Liz Eslamiyeh is "pushing hard for tenants." He said there are a number who are interested in locating in the Cottonwood Plaza. Last spring, Eslamiyeh had hired Rudolph Construction as the general contractor to oversee plaza renovations. Rudolph's crews did go to work on the front building. Schaniel said it is nearly ready for tenant improvements. The back building still needs some electrical service upgrade.
In the few months of inactivity, rumors began to fill the void – rumors of lawsuits. Schaniel said there is no truth to that rumor. He said the first wave of the new owner was to get infrastructure improved. She then turned to other business matters. Now she is back on Cottonwood with the focus on tenant improvements and paving and landscaping most likely in the spring.
Crews have lately also worked on the former Burger King building. Schaniel said that the owner is entertaining possibilities of various franchises locating there. Meanwhile, there have been some break-ins and vandalism. Crews are opening up the formerly boarded up building to improve security. They are also repairing the vandalism.