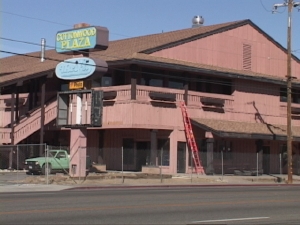 The Bishop community eagerly awaits the re-opening of the long defunct Cottonwood Plaza shopping center, and visible workmen and equipment over the past weeks have prompted questions. We talked with the project architect and general contractor.
Bishop architect Tom Schaniel said he understands the owners are in talks with several prospective tenants. He said assuming tenants are confirmed, specific and individual improvements would start on the interior in June. Schaniel confirmed that efforts are concentrated on the front building with plans to actually open in the fall. He said, "We are working on ideas that can go public."
Crews have demolished the interior of the large front building and are working on a common grease interceptor to encourage restaurants to locate on the lower level.
Last fall reports confirmed that majority owner of the plaza, Liz Eslamiyeh developed a consortium and formed Yaney Corner, LLC to move ahead with the plaza renovation. She hired Rudolph Construction of Bishop as the general contractor to build and oversee operations.
Ken Abbott, President of Rudolph Construction, said that his crews did take out dividing walls and flooring in the front building and are now at work on a main grease interceptor that would be used by several tenants.
Earlier crews focused on underground utilities. Electrical work is complete as are fire sprinklers and monitors. Rudolph crews will also focus on preparing the outside of the plaza for new paint.
Architect Schaniel had earlier said that new and improved landscaping would change the feel of the plaza. He had said Landscape architect Josephine McProud and Associates of Nevada City was hired to do the work.