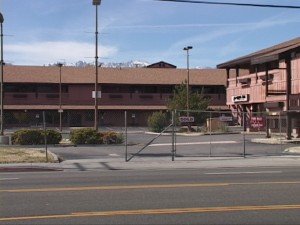 For more than two years, the former Cottonwood Plaza in Bishop has stood empty in the heart of town, surrounded by chain link fence and memories of a more vibrant city.  Current owners of the center now say that even though one of the primary owners has died, plans will move forward to renovate the center.
The owners, members of the same family, issued a statement to say that a makeover has begun.  The statement says that the new renovation project had been slowed by the health challenges and finally the death of owner, Ray Eslamiyeh.  Ray and wife Liz had purchased the center last year.  Ray developed cancer and died in January, according to family.
Owners say that the dream to create a "beautiful, lively town center lives on."  Their statement says, "The process of upgrading the property infrastructure and the improvement of its appearance will go forward."
It is believed that more details about current plans will go public within the next two weeks.  This news follows the failure of the center more than two years ago when previous owners entered heated disputes and tenants were ousted from the center. In April of 2010, the center fell out of one escrow and into another headed by Ray and Liz Eslamiyeh.
Now, new owners are asking for those interested in locating in the center to contact them via email, [email protected]