The City of Bishop continues to function with some major vacant spaces in its commercial areas.  The largest is the former Cottonwood Plaza on north Main Street.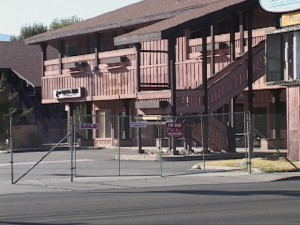 At the end of May, a couple from the Los Angeles area bought the center from owner Lee Crosby of Bishop.  Ray and Liz Eslamiyeh planned to revitalize the center and lease it out.  Since then, according to realtor Stacy Bardfield, who is handling the center, Mr. Eslamiyeh has dealt with a serious illness and put everything on hold.
Bardfield said she gets calls daily from people who want to lease space or even buy the center.  Bardfield did confirm that the activity at the center now involves installation of lights in the parking lot.  Landscaping work had been done earlier as part of the new owners' plans to remodel.
The new owners had earlier purchased property in Mammoth Lakes and Bishop, plus fast food restaurants in Southern California.  The future of the Cottonwood Plaza remains somewhat uncertain for now.  The plaza had closed a few years ago after ownership disputes forced most of the tenants out.
Meanwhile, another vacant space continues to mystify Bishop residents.  Some of our listeners and viewers pointed to the re-painting of the parking lot at the old Kmart store on Main Street.  That very large space has remained vacant for a number of years.  Reports indicate that the owners are paid something like $27,000 per month by Vons, concerned about competition, not to lease to anyone.