While escrow continues over the Cottonwood Plaza in Bishop, prospective buyers have now started to look seriously at demolition of all the plaza buildings, they say.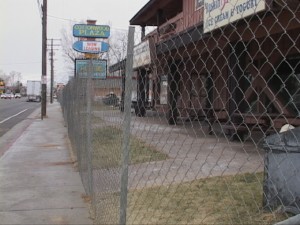 Joel Johnson of KK Properties in Roseville, CA said the company is still in escrow with owner Lee Crosby of Bishop. He said that KK Properties officials met with City of Bishop officials last week to discuss timing and permits.
Johnson said that "We have determined that it is uneconomical for us to keep all of the retail shops." Johnson said company representatives met with an architect and walked through the buildings. He said based on the cost to redevelop for new fire codes, they are looking for one user to demolish the buildings and take over.
Johnson also said that there are prospects for one big store to locate in Bishop. He declined to say who. He added that while the exterior of the plaza looks nice, there are internal issues. He said a lot of things don't meet code.
Some privately speculated that this move could be part of price negotiations. We placed a call to land owner Lee Crosby and await his reply.
At the City of Bishop, Public Works Director Dave Grah said, "It looks like they are looking toward the possibility of demolishing the buildings." He called this development "surprising."
Of last week's meeting, Grah said that the KK Property people seemed interested in clarifying City requirements as part of finalizing negotiations to buy the plaza.