While the Bishop City Council went through the hoops on the demolition permit process for Cottonwood Plaza, a local realtor confirmed the center is for sale and an offer has come in.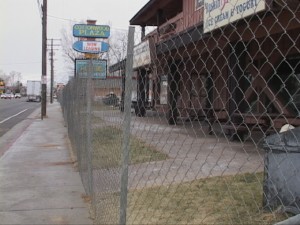 With the tangle of legal issues over the center, a one-time plaza lessee filed for a demolition permit, but the land owner, Lee Crosby has declined to sign the permit. So, in reality that issue sits in limbo.
Meanwhile, Crosby hopes for a buyer who will restore the plaza for active use. Long-time local realtor, Stan Smith of Pleasant Valley Associates will handle the sale of the plaza, listed at $1.95 million. Smith said the entire property, including the Burger King building and the two-story structure, are for sale, along with the land – 45,200 square feet of building and 2.6 acres of land in total.
Smith looks at the sale as $17 per square foot of land with the buildings thrown in for free. Mr. Crosby said that's one way of looking at it, but he prefers to consider it one price for all.
Smith said an offer did come in from a Sacramento Development company that would like to rehab the complex. Other calls, he said, have come in. Smith added that two local businesses have shown an interest.
If or when someone buys and restores the Cottonwood Plaza, Smith said that rents would be "extremely competitive – in the $1 per square foot range." Smith said he hopes the favorable rent prices will attract current businesses in Bishop and Mammoth Lakes.