Chuck Caldwell is out and Cottonwood Plaza land owner Lee Crosby has taken possession of the buildings. Crosby called it the most significant development since the closure of the big plaza.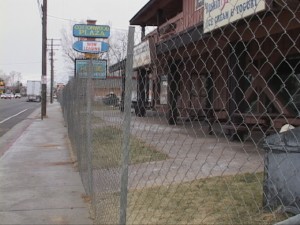 Lee and Lucy Crosby own the land at Cottonwood Plaza and had issued a master lease to Chuck Caldwell of Newport Beach. Caldwell seemed to force tenants out last year and finally closed the plaza. Chain link fence went up and some business owners boarded up their former enterprises.
The community reacted badly to what many called an eyesore and a sad development for business owners who had to move. The future of the Cottonwood Plaza remains unknown. Asked if legal moves ousted Caldwell from the situation, Crosby said only that Caldwell had two different lawyers. "We ended up with the keys and we claim possession of the whole thing," said Crosby, who also said he believes Mr. Caldwell's goal was to get out from under his lease which was set to expire in 2030.
Now, Crosby will get together estimates on different avenues. "We could go a couple of different ways," said Crosby. "We could lease or sell or operate the plaza." Any avenue will not be cheap.
Crosby said he will take it one thing at a time and evaluate which direction to take. Right now, he wants to check out pipes that Caldwell let freeze and break over the winter. He will also hire crews to improve the appearance of the center. Crosby did say that the chain link fence has to stay up until the plaza becomes active again.