The owner of the Cottonwood Plaza in Bishop, Lee Crosby, confirmed that his center is in escrow with a conclusive sale several months away.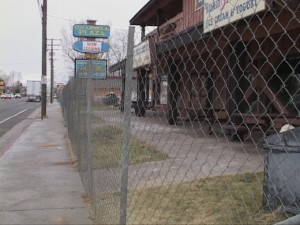 Realtor handling the plaza, Stan Smith, described the prospective buyer as a Sacramento development company that specializes in buying, selling and rehabilitating shopping centers. The plan here is to rehab Cottonwood Plaza, said Smith.
Mr. Crosby said that he and the buyers have signed a sales agreement to proceed. Smith said the parties entered escrow last week and are now involved in due diligence. Smith said he thinks it looks good for the sale to close around the first of the year.
Crosby said there are a lot of conditions to be fulfilled before the sale is complete. The landowner said he is interested in carrying out the sales agreement. Crosby added that if this deal should fall through, he has someone else in mind.
Real estate agent Smith said he is looking for back-up offers. Smith said in the meantime, Team Engineering has run tests on any underground tanks and found none.
According to Smith, at least six would-be tenants have come forward, including two major local retail businesses and a food-user. Smith said, We are taking inquiries for future tenants, although rents have not yet been determined."
Smith declined to name the new buyer but did say a member of the company had come to Bishop to visit relatives during Mule Days and saw the vacant center.
With a new chapter on the cusp, the past still somewhat haunts Cottonwood Plaza. Crosby said hes at work to re-install water, electricity and gas. Seems master lessee Chuck Caldwell ordered all of the meters, tanks and other electrical components out to prepare the buildings for demolition – a fate apparently escaped.