The Cottonwood Plaza in Bishop continues its state of emptiness, but a local woman saw someone putting up for sale signs and wondered if, in fact, the plaza ever would sell and come back to life.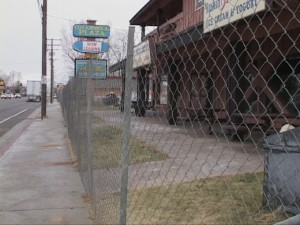 Real estate agent in charge of the plaza, Stan Smith, said that someone had ripped off signs at the center and he replaced them. Smith said the escrow process with a Mammoth Lakes area buyer continues. He said next Monday, Team Engineering and others will excavate a spot that proved to contain some petroleum contamination.
Of all the testing done in the plaza parking lot, only one spot turned up problems. Smith said that will be addressed and treated. He added that the potential buyer was in town recently, walked the area in preparation for locating an El Pollo Loco restaurant in the space of the old Burger King.
Smith also said that he has had well-qualified contact from additional back-up buyers. In the current escrow, matters were scheduled to close at the end of August. Now, with the water quality work required, that deadline will be extended.