As we had reported, the Cottonwood Plaza shopping center in Bishop is now listed for sale at $1.95 million. Even as that news came out, the Bishop City Council prepared to act on the environmental review of a request to demolish the plaza. City of Bishop officials confirmed that a lot more would have to happen before demolition would ever take place.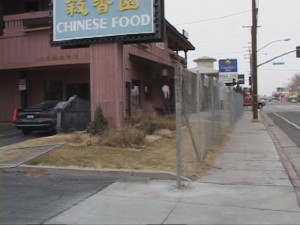 Public Works Director Dave Grah said that the City would require a signature from the landowner, Lee Crosby. So far, Mr. Crosby has declined to sign a demolition permit. All of this involves legal issues among at least three parties. Grah said that because of the issues involved and the importance of the plaza, the City would make sure the owner of the property approved of demolition before it ever happened. Mr. Crosby has stated he wants to sell the plaza to someone who would restore it.
Grah added that there is no application for demolition on file. That would have to follow the environmental review, which took place before the City Council in Bishop Monday night.
(The Bishop City Council report by Tom Woods)
There were few options and little information when the Bishop City Council signed off on the environmental documents that could clear the way toward the demolition of the Cottonwood Plaza.
Bishop Plaza LLC, and Richard Maudsley of San Diego requested that the City Council sign off on the environmental work that opens the door for the possibility of demolition. Maudsley is a one time sub-lessee of the entire center who had requested this process amid a legal mess surrounding the future of the center.
None of the council members appeared to be happy about being the people to approve this step toward demolition. There were often long, awkward silences during the discussion.
Worried that the property would become a dusty, weed-filled lot surrounded by a rickety fence, councilman Jeff Griffiths asked if the property owner was going to maintain the pavement or water the landscaping if the plaza were leveled.
City Administrator Rick Pucci explained that city staff doesnt know what the plans are for the project. Richard Maudsley, who was in the audience, did not elaborate. Councilwoman Laura Smith stated that the consensus she has heard from the business community is that the city would be better off with an empty lot than leaving the buildings as they are now.
What little the City could do about the situation continued to vex the council members, until Councilman Bruce Dishion made the motion to approve the environmental documents. The motion passed 4-1. Councilman Jeff Griffiths voted no, saying that the closing of the Cottonwood Plaza had already done tremendous damage to the community.
With the environmental work signed off, the Public Works Department is now clear to issue the demolition permit, if an application were filed and, most significantly, if the land owner signed off. Mr. Crosby has consistently declined to put his name to a demolition application.