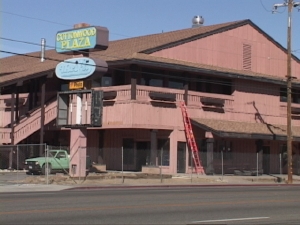 In spite of the appearance that nothing is going on, slow progress is in the works at the Cottonwood Plaza in Bishop.
Ken Abbott of Rudolph Construction said his company has completed the work they were hired to do, so they are no longer the general contractor on the site. He said the Plaza owner has hired a property manager to do the leasing of spaces and a project manager to carry out tenant improvement work. Abbott said Rudolph Construction will continue to bid on that work.
Architect and spokesman on the plaza project, Tom Schaniel, also said that the owner has hired a property manager and someone to oversee the hiring of people to perform tenant improvements going forward. He assured that "things are still moving." It is known that owner Liz Eslamiyeh does have a number of other business interests.
Asked if there are tenants interested in locating in Cottonwood Plaza, Mr. Schaniel said there are. He said some have signed letters of intent and others have a high level of interest.
Trouble for the Plaza started some five years ago with eventual closure and fencing of the center. Although the Plaza did sell and has undergone rehabilitation, it is still closed. About a year ago, Ms. Eslamiyeh hired Rudolph Construction to oversee Plaza renovations.
Work was also done on the former Burger King building in the center. At the end of last year, the owner was entertaining possibilities of various franchises locating there. Nothing is apparently definite yet.