The sale of Cottonwood Plaza in Bishop, vacant for several years, closed escrow Thursday morning. Real estate agents on both sides of the sale confirmed closure. This news means  likely revitalization of a once major shopping area in Bishop.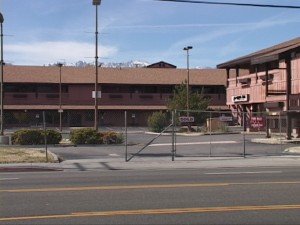 Stan Smith of Pleasant Valley Associates, who represents seller Lee Crosby, confirmed escrow closure. Stacy Bardfield of Mammoth Sierra Properties also confirmed the sale to her clients, Ray and Liz Eslamiyeh of the Los Angeles area. Bardfield said the couple owns property in Bishop and Mammoth Lakes as well as fast food restaurants in southern California.
In earlier months, sources had said El Pollo Loco would go in where Burger King used to operate in the plaza. Bardfield said that that is uncertain, although the process to accomplish that is underway. Bardfield did say that Bravo Gardens would go to the center soon to fix up the center and eventually take down the chain link fence but not right way.
Bishop sources had indicated that CVS Pharmacy and an auto parts store would locate in a refurbished center. Bardfield said that is not true. She said CVS had earlier talked about location in the center but did not want to lease.
Bardfield said she will be in charge of leasing if there are ground leases or if the buildings are torn down. She indicated that now it's time for a game plan, timing and remodeling. Bardfield said Mr. Eslamiey wants to get a restaurant open first. She said the new buyer will be in the area next week. She said he has cleared everything with the City of Bishop and knows what to do before re-opening the plaza.
Bardfield said the plaza buildings and grounds present "no huge problems. No drama."