More today on the fate of Cottonwood Plaza in Bishop. Sources close to the situation confirmed that the plaza remains in escrow with KK properties of Roseville, CA, with a request for an extension of time for due diligence. A request for extension of the escrow may also be in the works, and reports say that former master lessee, Chuck Caldwell has finally signed off on the property. He's out of the picture.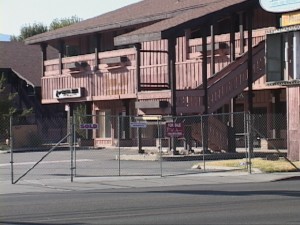 As for the future of what might happen at the plaza, sources said that originally, it was rumored that Rite Aide might re-locate to the plaza. That, we are told, will not happen. Further rumors named CVS Pharmacy as a possible business that would take over the site.
Other indications point to Smart and Final as a potential business to re-locate in the plaza area with a build to suit facility. Other discussions about the Cottonwood site included Wallgreens and Kohls Department store. Word has it that there is not a big enough population base here for those businesses.
Some local businesses in Bishop and Mammoth Lakes have looked at the center for leasing, but apparently KK properties has a problem with the price tag to upgrade the center as required by the City of Bishop.
Public Works Director Dave Grah said that once the plaza went vacant for an extended period of time, it would not be prudent for the City to not enforce current codes as plans are made to lease space. Fire codes, in particular, are critical issues.
Another critical issue seems resolved. A clear title on the plaza was shadowed by former master lessee Chuck Caldwell. Sources confirmed that Caldwell recently signed a quit claim for his interest in Cottonwood – so he's out.
KK Properties officials have said that at this point they prefer to demolish the plaza and make a deal with one big store. It is reported that the former Burger King would not come down but would be made available to another business with a drive-thru need.