The Cottonwood Plaza in Bishop now careens toward the fate of demolition. Citizens still hope for a reprieve.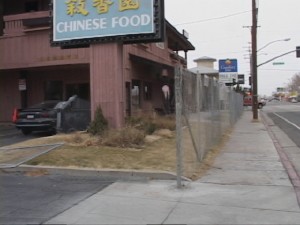 Richard Maudsley, one-time lessee of the entire center, confirmed rumors that a demolition application is underway. He said engineer Andy Holmes was hired to prepare the application. Maudsley said the paperwork goes toward a permit for environmental review of removal of the plaza.
Maudsley said he expects the application to go to the City of Bishop early next week. Maudsley said he understands that the environmental review process allows for time to "determine if the proposed action is beneficial to the City or its people."
Does this process give the City a way to deny demolition? That's still an open question.
Maudsley did say the City would require master lessee Chuck Caldwell and land owner Lee Crosby to sign off on the demolition. Maudsely himself takes no joy in this course of affairs. "I'm not happy," he said. "I do not believe that I am legally obligated to perform this demolition, but I want to move forward and not spend years arguing in court." Maudsely had earlier said that Caldwell maintains Maudsely is legally required to tear down the center.