At their meeting Monday night, the Bishop City Council was vocal in their dislike of the newly fenced off Cottonwood Plaza on Main Street. At the same time, however, council members also said that there is little the council can do about the situation.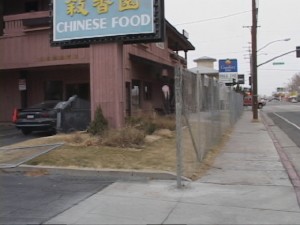 City Administrator Rick Pucci explained that while City Staff doesnt like the situation with the now defunct real estate, the city doesnt have jurisdiction to step in. Pucci said that the only contact that the owner of the property had with the city, was to call the Fire Department to make sure that the Cottonwood Plaza was in compliance with fire prevention requirements.
Council member Frank Crom called the fenced off property a black eye, on the community, saying that he doesnt like it anymore than anyone in the audience or in this city. He added, if there was something we could do about it, we would be doing it.
Mayor Martin Smiley Connolly concurred, saying, our hands are tied. Council member Jeff Griffiths said that while it was too late to do anything with the Cottonwood Plaza this time around, it might be possible to look into an ordinance to prevent a situation like this in the future.
Crom added that master lessee Chuck Caldwell did not treat tenants with respect, and did not treat the City of Bishop with respect.
In other Bishop City news, the council approved a smoking ban in certain areas of the park. Council member Griffiths backed the smoking ban. He said he could remember when his children were younger and they picked up cigarette butts out of the wood chips and chewed on them.
With this council approval, the no smoking signs are expected to go up at the ball fields, the pool, the tennis courts, the skate park, and the playground.