By Deb Murphy
The final landscaping touches are planted, work is going at a furious pace on the new site for Perry's Café and the California Department of Fish and Wildlife staff is settled in. The promise of Cottonwood Plaza is taking shape.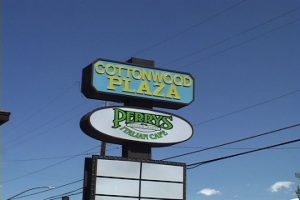 According to the site agent, Al Amiri, El Pollo Loco is "right on track," to join the line-up of tenants in the remodeled, updated Plaza. The Mexican restaurant head office is currently looking at the development agreement and will be making the decision on the specific model for the site in the next week or two. The insert for the lollipop sign is visible in the dining area window, waiting to go up.
Value Sports will be relocating from Rocking K to the first floor of the west building sometime after May 1 making downtown Bishop the center of outdoor gear and clothing in the Eastern Sierra.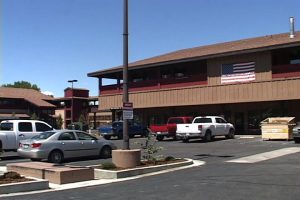 Cottonwood's website lured tenants to the Plaza with big numbers of travel-throughs and motel occupancies expanding Bishop's small population to a potential 255,500 customers annually.
According to Amiri, the management firm is in negotiations with potential tenants for the remaining two spaces on either side of Perry's Café.